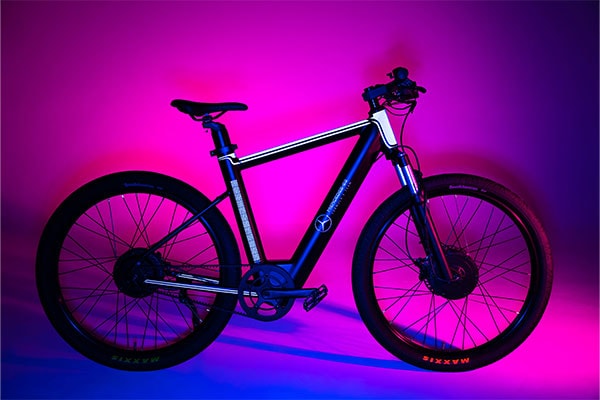 Mercedes-Benz of Lancaster is proud to announce that the full range of new eBikes from Mercedes-Benz are now available! These eBikes are the cutting edge of electronic-assisted bicycles, setting a new standard. Quality European engineering from Mercedes-Benz takes your ride to a whole new level. Let's take a look at some of these new Mercedes-Benz eBikes.
n+ Mercedes-Benz EQ Formula E Team eBikes
When you pedal harder, this bike pedals faster. The pedal assist technology in this model seamlessly matches electric motor assistance with the rider's power input. This model features a 250-watt mid-drive power unit with terrific weight distribution. A bright digital dashboard, seamlessly integrated into the cockpit, shows your speed, battery level, and more vital info. Starting at $3,450, the
Formula E Team eBike
represents the leading edge of electric bike technology.
Silver Arrows eBike
This model features a stunning brushed aluminum finish, with features to match. Enjoy the power of constant variable transmission and dual batteries for your best ride. It's beauty and power rolled into one! Choose the Sport model to realize double the range, without any increase in weight. The Silver Arrows models start at $4,500.
Championship Edition eBike
For the ultimate in power and engineering, look no further than the Championship Edition eBike. Featuring 700W dual motors, 29-inch lightweight alloy wheels, and an amazing matte black finish, the Championship Edition eBike is built to perform. Starting at $5,800 and available only in limited quantities, this eBike is worth considering!
Visit Mercedes-Benz of Lancaster
to learn more about these electric bikes and order yours today!