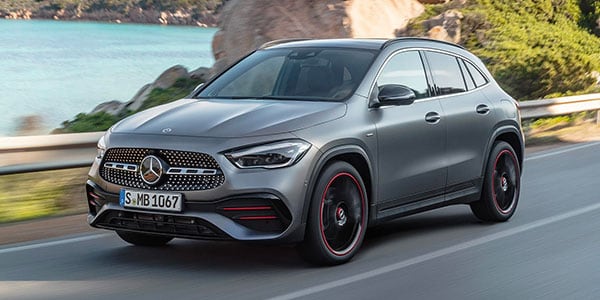 New details about the 2021 GLA SUV are available, and we are excited to share these amazing updates on one of our most popular SUVs. The 2021 model year GLA is freshened, with an updated body style, brand new technology, and increased horsepower. Let's dive in to the new 2021 GLA.
Safety is paramount in any Mercedes-Benz vehicle, and the 2021 GLA includes more upgrades to keep you and your family safe. Consider the Driver Assistance Package, which keeps the driver aware of surroundings, including enhanced blind spot warnings for vehicles and cyclists. If your adventures take you off-road, add the Off-Road Engineering Package, which adds a new drive mode for this purpose. Plus, all of us enjoy keeping our Mercedes-Benz vehicles clean, so Mercedes-Benz added a new Car Wash function, which prepares your vehicle for a bath, keeping you safe and secure during the process.
The 2021 GLA SUV increases its horsepower for this model year. Drivers will enjoy 221 horsepower, up from 208 in our previous models. The GLA features a top speed of 130 mph and 258 lb-ft of torque. In addition, the new GLA features an updated suspension design which will improve ride comfort and handling.
The new GLA is approximately 4 inches taller than its predecessor, giving occupants some additional headroom and room to move. The windows and body are more upright, which results in a more spacious cabin. Trunk space is also increased due to the additional height of the new GLA SUV.
The 2021 Mercedes-Benz GLA SUV will be available this summer at Mercedes-Benz of Lancaster. Please call us at (717) 569-2100 with any questions or to schedule an appointment to discuss this exciting new vehicle!