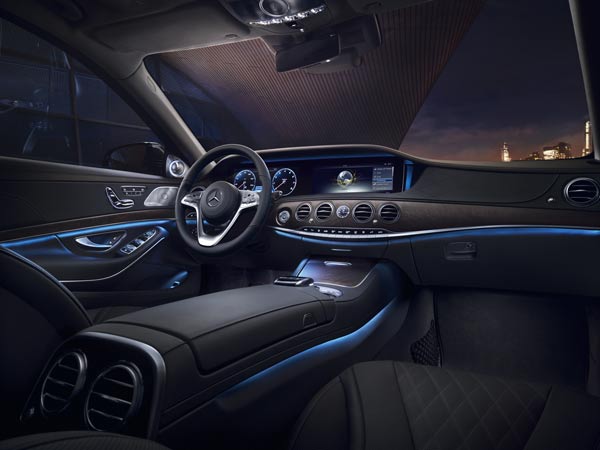 As the flagship sedan of the Mercedes-Benz lineup, the S450 provides a luxurious driving experience like none other. Passengers and drivers alike will appreciate and enjoy the comfortable ride and advanced technology on long and short car rides. Many of our S-Class owners tell us they find it difficult to leave the vehicle after a ride!
The craftsmanship in the S-Class cabin shows attention to detail, including top-stitched upholstery and hand-tailored leather on many surfaces. Along with the tasteful alumnium access and hand-made wood trim, drivers and passengers also enjoy the sleek dashboard with numerous entertainment options, front and center.
Air Balance Cabin Fragrance System
One of the most talked-about features on the Mercedes-Benz S-Class, the Air Balance Cabin Fragrance system adds a fragrance atomizer to the cabin, providing a choice of five subtle aromas as travelers enjoy the ride. Easily refillable via a glove compartment system, the fresh aroma is released into the cabin silently on a regular basis.
Touch Pad Controller and COMAND System
The innovative COMAND system from Mercedes-Benz is featured prominently in the S-Class. With seamless navigation and entertainment options, and built with convenience in mind, the COMAND system features a rotary touch pad controller that allows for ease of use while driving.
Throughout the cabin, you'll find subtle, ambient LED lighting that helps to improve in-cabin visibility and provides a tasteful atmosphere. With dozens of options and three different customizable zones, you'll find the lighting in the dash/door trim and footwell to add a nice touch to your ride.
For more about the Mercedes-Benz S-Class sedan, stop in to see us and take a test drive. The features explained above, plus many more, are best experienced with an in-person visit to Mercedes-Benz of Lancaster.