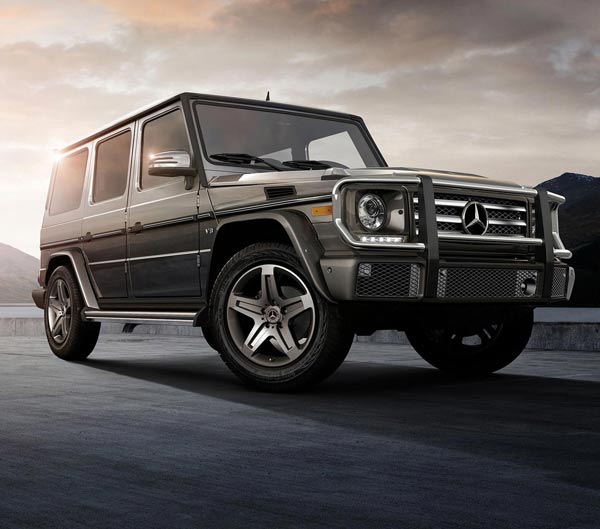 The famous Mercedes-Benz G-Class, or "G-Wagen," doesn't look like your typical Mercedes. Primarily square in shape and very angular, the G-Class SUV doesn't even compare to the regular line of Mercedes-Benz SUVs. Looks can be deceiving, though - the
G-Class
is one of the most technologically advanced vehicles available. It's the only Mercedes-Benz SUV with an MSRP in the six-figures, and the G-Class is worth every penny due to its amazing off-road features.
Permanent All-Wheel Drive
Many typical all-wheel drive systems only deliver torque to both axles when the vehicle determines that the second axle needs power. With a four-wheel drive vehicle, the driver can determine if the power goes to one or both axles equally. The Permanent AWD in the G-Class is the best of all these worlds: an always-on system that powers both axles and senses road conditions for optimal handling and power distribution.
The G550 is known for its off-road prowess. Built to handle the roughest conditions and terrain, it's the ideal luxury vehicle for your outdoor lifestyle. To take it to the next level, explore the G550 4x4 Trim, one of four available trim levels on the G550. The G550 4x4 upgrades the experience even more, adding 22-inch wheels with all-terrain tires, a higher ride that allows navigation of rivers 39.4 inches deep, the the incredible 54% lateral slope and 80% grade capabilities as the other G550 trims.
Triple Lockable Differentials
When you are exploring rugged terrain in your vehicle, locking your front or rear axle is a great option to get out of mud puddles or other rough terrain. The G550 SUV goes a step further, allowing you to lock the front, rear, and center differentials for maximum flexibility.
Mercedes-Benz AMG G 63 and G 65 SUV
If you are considering the G-Class SUV, be sure to take a close look at the AMG G 63 and AMG G 65 SUV trims. In addition to the standard and 4x4 trims, the two AMG levels offer advanced luxury you'll find in no other SUV available - including up to 621 horsepower and 738 lb-ft of torque. The G 65 features an incredible V-12 engine that must be seen to be believed.
While it's not the typical SUV experience for Mercedes-Benz, the G-Class is a premium sport utility vehicle that can take you anywhere. The high price of the G-Class does get you a list of features you'll be hard-pressed to find anywhere else. If you're interested in test driving a G-Class SUV for yourself,
see our inventory
and schedule an appointment.