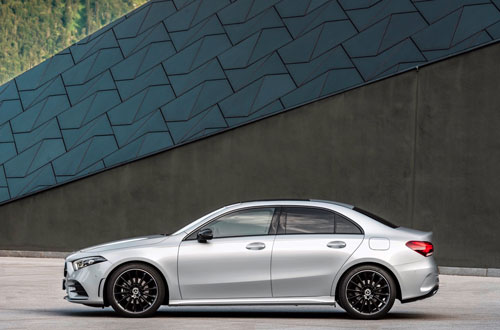 As you may have heard, Mercedes-Benz is bringing its popular A-Class to the U.S. for the 2019 model year. The A-Class Sedan will join the CLA-Class as the most affordable Mercedes-Benz models, providing great choices for those who are looking to step into a Mercedes-Benz.
The A-Class Sedan will borrow from the European model, featuring sleek new triangular headlights, a new grill, and overall new styling from front to rear. The 2.0-liter I4 engine will produce 188-hp and 221 pound-feet of torque, and you'll find FWD and 4MATIC® versions of the A-Class depending on your preference.
Inside, you'll find a brand new interior, featuring upgradeable 7-inch screens, one for your gauges and one for infotainment. The A-Class will be the first Mercedes-Benz model in the U.S. to feature the all-new MBUX system, for "Mercedes-Benz User Experience." Simply say, "Hey Mercedes," and your A-Class will take care of whatever you need. Bright new graphics and an optional "augmented reality" system where you can see turn-by-turn directions posted on the roadway are available.
As far as safety is concerned, the A-Class features one of the most important pieces of safety tech available: automatic emergency braking with pedestrian and cyclist detection. In addition, you will be able to add lane monitoring and other safety options with your well-equipped A-Class.
Interested in learning more about the A-Class? Keep an eye on this blog and as we start to get the vehicle at Mercedes-Benz of Lancaster in the coming months, we'll be sure to show you more!