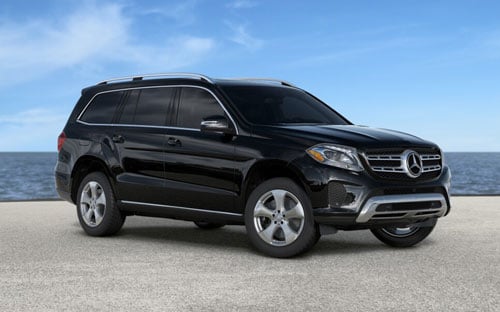 As the pinnacle of the luxury SUV experience, the Mercedes-Benz GLS 450 SUV is unmatched in its performance, comfort, and style. Many of our customers come back to the
GLS-Class SUV
year after year, and here are four reasons why.
1. Unmatched Safety Features
The GLS 450 excels as a family vehicle, with three rows and plenty of cargo room. As a family vehicle, safety is paramount. The good news is that most of the top safety features are included as standard equipment on the GLS 450, including all-wheel drive, knee-level air bags for front passengers, traction control, and more. Our best-in-class Bluetooth system is ready to help keep you safe while taking phone calls. Plus, enjoy a rear view camera to ensure you and your surroundings are safe when backing up.
2. Mercedes-Benz Experience
As the flagship SUV for Mercedes-Benz, the GLS 450 features the top power and handling that you come to expect from the brand. The base level GLS 450 comes standard with a 362-hp twin turbo V-6 engine, and the upgraded GLS 550 SUV includes the twin-turbo V-6 with 449-hp. If you're looking for the ultimate experience, the AMG GLS 63 features a 561-hp V-6 engine. Enjoy best-in-class handling and air suspension that assists in a pleasant and safe drive.
3. Room for 7 Passengers & Plenty of Cargo
With room for seven passengers, the sheer volume of space available in the GLS-CLass SUV is sure not to disappoint. Drivers and passengers alike have plenty of room to move, making the GLS-Class the perfect ride for those who feel cramped in smaller SUVs. Mercedes-Benz has maximized the interior space for the 2018 GLS-Class, and you'll enjoy the space you need in the right size vehicle for you.
4. Luxury
Mercedes-Benz is one of the top luxury vehicle manufacturers, and it's easy to see why with the GLS 450. Enjoy a suite of premium options like navigation, heated/cooled seats, beautiful audio system, Apple Car Play, Android Auto, and even an off-road package.
Interested in the
GLS 450 SUV
? Mercedes-Benz of Lancaster has many new and preowned options in stock. Be sure to check out our inventory and contact us for a test drive today.