As the flagship of the Mercedes-Benz lineup, the S-Class features the most luxury, power, and capability of any top-line sedans in the market today.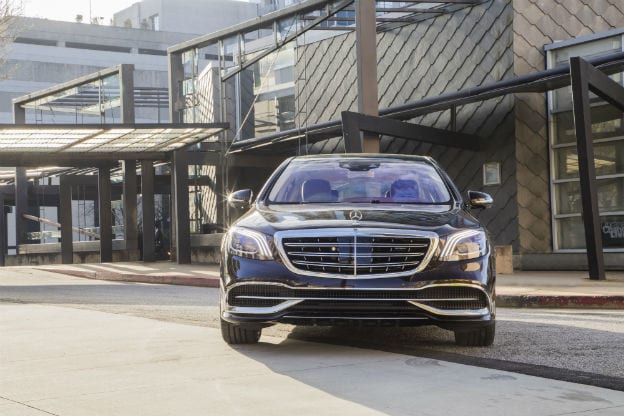 Along with the 2019 C-Class and E-Class models, the S-Class rounds out the sedan, cabriolet, and coupe offerings from Mercedes-Benz. Before you stop in for a test drive at Mercedes-Benz of Lancaster in East Petersburg, take a moment to learn about the many different options for the S-Class lineup.
Available 2019 Mercedes-Benz S-Class Trim Levels at Mercedes-Benz of Lancaster
As mentioned above, the new 2019 S-Class lineup consists of three body styles, each with their own set of trim levels and options. Buyers can choose from the traditional sedan, stylish coupe, and open-road cabriolet.
4MATIC
all-wheel drive is available on all trim levels: definitely an option to consider with the severe weather conditions we see in Lancaster County.
This year's Mercedes-Benz S-Class lineup features the 2019 S 450, 2019 S 450 4MATIC, the upgraded 2019 S 560, and the 2019 S 560 4MATIC.
If you're looking at the coupe, that lineup consists of the 2019 S 560 4MATIC, plus two premium AMG models: the AMG S 63 and AMG S 65.
The top-down fun of the cabriolet models also include the 2019 S 560 4 MATIC, and the two AMG cabriolet models: the AMG S 63 and AMG S 65.
Engine Options of the 2019 S-Class Models
The base models of the S-Class lineup, the S 450 and S 450 4MATIC, feature a 3.0-liter bi-turbo V6 engine that move you forward with 362 horsepower and 369 lb-ft of torque. For even more power, the upgraded S 560 and S 560 4MATIC models offer a 4.0 bi-turbo V8 engine with 463 horsepower and 516 pound-feet of torque.
The two AMG engines featured in the S-Class models take power to the next level. Consider the AMG S 63 models, which offer a handcrafted AMG 4.0-liter bi-turbo V8 engine, with 603 horsepower and 664 lb-ft of torque. The top-of-the-line AMG S 65 will take your breath away with its incredible handcrafted AMG 6.0-liter bi-turbo V12 engine, with 621 horsepower and 738 lb-ft of torque.
New S-Class Inventory at Mercedes-Benz of Lancaster
We have the
2019 S-Class
in stock, and if we don't have the exact model you're looking for, we can get it for you. Contact us today for an appointment to talk about your new 2019 Mercedes-Benz S-Class sedan, cabriolet, or coupe.